What is a Legal Specialization?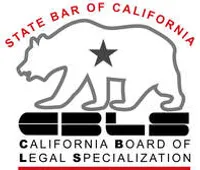 In the State of California, the State Bar will certify attorneys as "specialists" if they go above and beyond the standard state licensing requirements. The State Bar Legal Specialization Program provides a path for attorneys to earn the title of "Certified Specialist" in their particular area. This program was designed to meet several goals including giving the public increased confidence and civil protections as well as encouraging attorneys to expand their knowledge, involvement, and competence. California was the first state in the United States to offer a path to certification.
How Does an Attorney Become a Certified Specialist?
To obtain a certification, above and beyond the standard requirements to be admitted to the bar in California, attorneys must pass a written examination in their field. They must have at least five years' experience with at least 25% of the active practice being dedicated to the certification area to demonstrate expertise in the particular area of law. They also must complete additional classroom training and also be favorably evaluated by peers as well as by judges who are familiar with the attorney's work, ethics, and practice. Attorneys must also maintain a level of involvement and competence as well as re-certify every five years.
Tracy Duell-Cazes – A Certified Family Law Specialist
Tracy Duell-Cazes is a Certified Family Law Specialist by the California Board of Legal Specialization of the State Bar of California and has held this certification since December of 2002. Be assured that when you work with Tracy, you are working with someone who has dedicated her practice to the area of Family Law and you will receive the fruits of over 30 years of experience.
Recognized by her peers to qualify for certification, Super Lawyers has identified Tracy Duell-Cazes as a top attorney for Northern California. Identifying no more than 5% of attorneys in an area, Tracy has been listed every year since 2009. Super Lawyers is a rating service of outstanding lawyers from more than 70 practice areas who have attained a high degree of peer recognition and professional achievement. The selection process includes independent research, peer nominations, and peer evaluations.
Why Tracy Duell-Cazes and TDC Family Law?
If you are in the process of a divorce or any legal issue in the area of Family Law, call the Law Office of Tracy Duell-Cazes, also called TDC Family Law, for a consultation. Areas where Tracy Duell-Cazes practices include Child Custody and Support, Visitation, Spousal Support, Paternity, Property Rights, and Contempt-of-Court defense or prosecution, You will be expertly represented by Tracy Duell-Cazes Her experience, certification, and peer reviews speak for themselves.